Despite somehow escaping a fire that engulfed a barn and killed the five other goats she shared a pen with, Emma Ulrich's goat Millie had suffered severe burns to 70% of her body.
At times there were questions whether Millie would survive.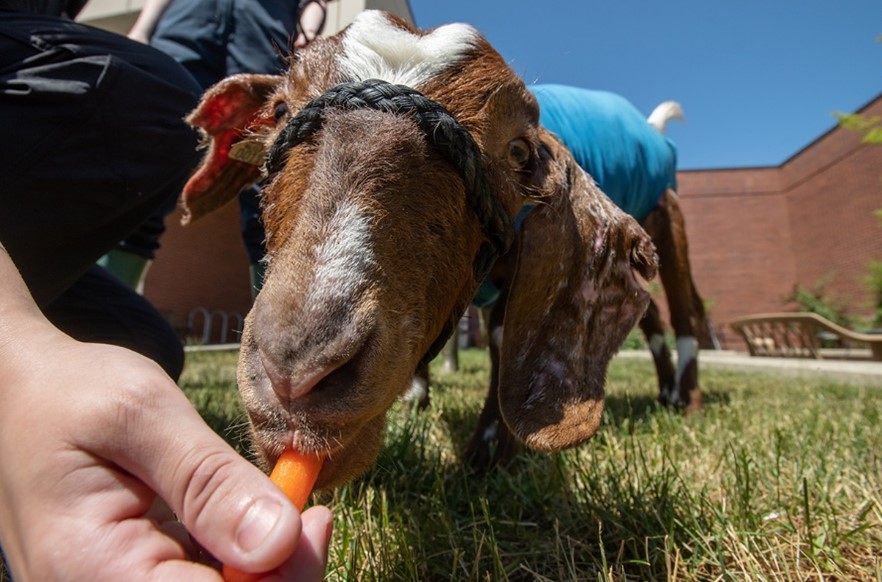 Following three months of care from veterinarians at Washington State University's Veterinary Teaching Hospital, Millie is expected to make a full recovery from the March barn fire. She returned home, pain-free, June 14.
"The veterinarians would do quality of life checks, we would give it a few days and see how it went," Ulrich said. "And every day she would do a little bit better — she's a fighter."
Large animal intern Dr. Larissa Florêncio, with guidance from faculty clinician Dr. Jennifer Sexton, oversaw Millie from the moment she was admitted to the hospital.
"It was the most significant burns I've ever seen," Florêncio said. "Hooves, neck, ears, vulva, everything was burned."
Due to the high level of pain Millie was experiencing, Florêncio elected to carefully remove the goat's burned and dead skin in stages during the course of a week when the animal was under sedation.
It was grim, but as weeks turned to months, Millie began to heal.
For the past two months Mille had her own care routine. Florêncio and WSU veterinary students would gently hose Millie down with warm water and clean the wounds. In addition to aloe vera, the group lathered Millie with Manuka Honey, an antimicrobial and antioxidant wound ointment.
Tegaderm, a transparent film used in human and veterinary medicine, was then applied to protect the burns and keep them moist for healing. Then Millie was wrapped in a tight-fit body sleeve that covered her burns. The cycle was repeated every other day during the goat's three-month stay at WSU.
Millie was fed during every bandage change as motivation. Banana peels were Millie's favorite.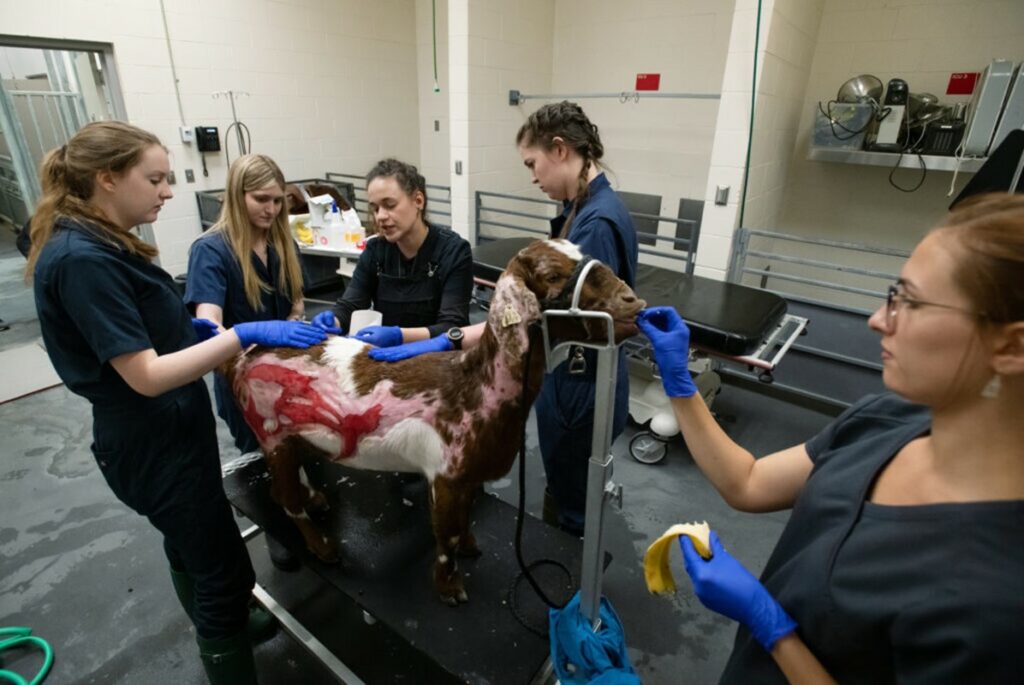 "Food was something that we found motivated her and distracted her from the pain, so we gave her all the treats that she likes," Florêncio said.
Treat by treat, and with time and compassion, Millie bounced back, and layer by layer, she grew new skin.
Florêncio said Millie's hair follicles were significantly damaged and the goat will not regrow all of her hair back. As a result, she may need protection from direct sunlight, but she otherwise is expected to live life like any other goat.
"I will admit it was tough. I was with her every day. There were times we talked about euthanasia, but she never gave up and she continued to respond well to the medicine," Florêncio said. "It's one of those cases I will never forget."
Millie's three-month stay was her second visit to the Veterinary Teaching Hospital this year.
Millie and her mother Margaret were injured in a dog attack in January. Millie ended up losing her kid and Margaret's injuries were so significant she was euthanized.
Ulrich, who visited Millie every weekend during her time at WSU, said her goats are more like companion animals than livestock, and she is thankful to have WSU as a regional resource.
"My animals are my family, and I will do anything for them, so I am thankful WSU is so close," Ulrich said. "It's been incredible. All the vets have kind of taken me in as a little sister and I knew that Millie knew everything was going to be OK while she was in their care."
By Josh Babcock, WSU Insider