Last fall, the Washington State Animal Health Foundation launched a new resource intended to help you better serve your clients who struggle with affording important veterinary treatment – The Vets Helping Pets Fund.
The Vets Helping Pets Fund allows WSVMA members and their associates to advocate for clients in need and receive financial support to be able to provide needed care and treatment for their beloved animal companions. Many families struggle to afford care and our goal is to create a robust partnership with veterinarians to not only address this issue but help bridge that gap in care. We have created a simple application form and a set of guidelines to help with case-selection. All we ask in return is for you to help us connect with these families so their stories and the power of their bond can be shared with our community.
Here's a Happy Tail about Hank who was helped by Vets Helping Pets.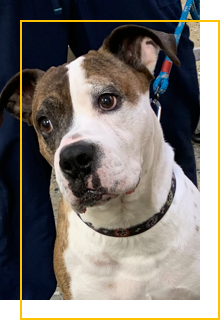 Hank, a 7-1/2-year-old American Bulldog/Boxer mix is the pride and joy of his owner Michael. Since Hank's adoption in 2015, they have been inseparable; taking in all life's adventures together.
Since his adoption, Hank has been a regular client of North Seattle Veterinary Clinic with his dad always making sure Hank was up-to-date on his essential veterinary care. It was as part of Hank's regular exam that his doctor, Dr. Adawna Windom, first noticed a not uncommon skin tumor. Unfortunately, during the removal of this skin tumor a much more serious condition was detected. Hank had a massive splenic tumor that needed to be removed right way and biopsied to determine if Hank had cancer.
Michael was at a loss of what to do next, especially since he simply could not afford this advanced surgery due to his fixed, retirement income. That is where Vets Helping Pets came in to help. Dr. Windom reached out to apply for, and was approved for, a grant to help cover the costs of Hank's care.
Hank did well during surgery and was soon on the road to recovery, minus a five-pound unwanted mass from his abdomen. In even better news, the mass was found to be benign! Hank did not have cancer.
Hank and Michael are now back to doing what they do best; enjoying their time together free of the worry of Hanks' health. Both are incredibly grateful to the team at North Seattle Veterinary Clinic and the Washington State Animal Health Foundation.
There are times when pet owners are faced with financial circumstances beyond their control and they do not have the means to pay for their pet's essential or lifesaving treatment. Vets Helping Pets can be a resource to WSVMA member practices and their clients so companion animals get the care they so desperately need.
What makes this program possible is the generous support of our donors and the veterinary community. Through their generosity, Vets Helping Pets can be there to help provide financial resources when it is needed most. You, too, can be part of this solution by making a donation to the Vets Helping Pets Fund today at wsahf.org.
For more information on this new program, please visit wsahf.org. There you can learn more about this exciting opportunity for Washington veterinarians and families, and access all supporting materials, including the complete guidelines, grant applications and case studies.
The Washington State Animal Health Foundation is a 501c3 non-profit corporation and the charitable arm of the Washington State Veterinary Medical Association. All donations are tax deductible. Donations to support the program can be made conveniently online here.