At the summer AVMA House of Delegates (HOD) meeting in Denver last Friday, WSVMA past president, Dr. Gary Marshall, announced his intent to run for AVMA Vice President. Dr. Marshall is a 1989 graduate from Washington State University College of Veterinary Medicine (WSU/CVM) and is a feline practitioner on Mercer Island.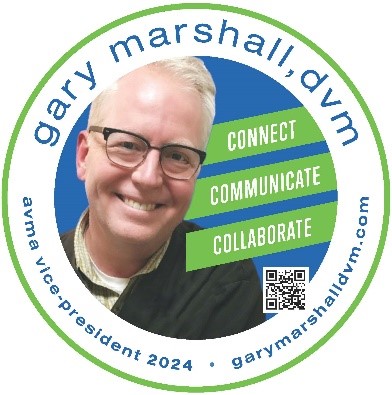 During the two-year term, the vice president's role is to be the face of the AVMA to veterinary students, to serve as an advisor to the SAVMA Executive Board and House of Delegates, and to build stronger relationships with veterinary school deans and faculty.
Getting to know future colleagues is at the heart of the position. After mentoring dozens of students over the last several years, Dr. Marshall says his role is to "listen, understand and respond to the perceived needs of the biggest pool of potential new members."
He credited former WSU/CVM dean, Dr. Leo Bustad, with his first introduction to mentorship as a pre-vet student. "Dr. Bustad's values, humanity and work ethic influenced the type of veterinarian I endeavored to become," he told the delegates. "I hope I can pass on that legacy to future veterinarians."
In addition to being a WSVMA past president in 2019-20, Dr. Marshall is both a current WSVMA board member and the WSVMA's Alternate Delegate to the AVMA House of Delegates. He also serves on the board of the Women's Veterinary Leadership Development Initiative (WVLDI), and is a past board member of the American Veterinary Medical Foundation. He's continued to contribute to the profession by working with national and international mentoring programs, and by building connections with veterinary students through online and in-person speaking roles at veterinary schools, SAVMA Symposia and AVMA conferences.
Dr. Katie Kuehl, WSU/CVM clinical assistant professor and board president of the Washington State Animal Health Foundation, introduced Dr. Marshall and his candidacy to the AVMA HOD. She remembers Dr. Marshall saying to her, "I'm so excited to meet you!" She had just moved cross country from Wisconsin to start a new chapter in her career. By the end of the conversation, she knew she'd made a new friend. "I didn't fully realize it at the time," she said, "but have since come to understand that this is Gary's superpower: connecting with people in a meaningful way. He truly takes joy in bringing people together who can connect, collaborate and create through shared interests or goals."
The announcement of Dr. Marshall's candidacy starts the one-year campaign process with the election taking place at the 2024 summer HOD meeting. In addition to Dr. Marshall, Dr. Elizabeth Boggier, delegate from New Jersey is also running for the office.
For more information visit garymarshalldvm.com or email [email protected].