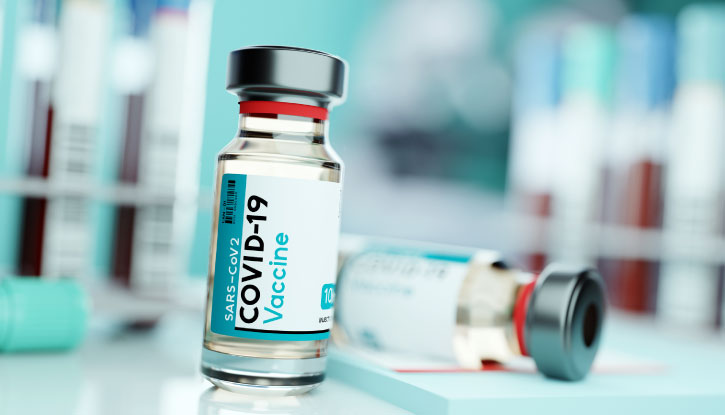 COVID-19 Vaccine Information and Resources
On January 14, 2021, Dr. Carrie La Jeunesse, La Jeune Consulting, presented a webinar for WSVMA about the COVID-19 vaccine. The following is information that Dr. La Jeunesse shared. Keep in mind that information changes frequently and is accurate as of the date of publication.
Why should I get the COVID-19 vaccine?
Both the Pfizer and Moderna vaccines have very good efficacy (i.e., how well it works to prevent illness from COVID-19) with acceptable safety profiles.
How do I trust the vaccines and the development process?
The development process was quick, but the same steps have been used to evaluate this vaccine as for other approved vaccines (i.e., full FDA "licensing") and it was being produced while clinical trials were ongoing to be ready if Emergency Use Authorization was granted. Massive amounts of resources have gone into its' development in a transparent process open to the public along with advisors from outside CDC and FDA. Furthermore, many years of experience with coronaviruses informed the development process.
Why is vaccine-induced immunity better than that from natural infection?
Natural Infection from COVID-19 is risky. The severity of illness, disability and death are unpredictable. The duration of immunity (how long immunity lasts to prevent reinfection), as well as how well previous infection protects from future infection or severe illness are also unpredictable.
Initial data show that immunity following vaccination is higher (antibody titers appear to be much higher than from natural infection). The vaccine's efficacy is very good with a 94/95% rate in preventing COVID-19 illness, as well as in decreasing severity of illness. Its' duration of protection is unclear at this time because the vaccine is new. This will be followed in clinical trial recipients and others over time.
Once I get the vaccine, do I still need to do all the things to prevent COVID-19 infection and spread such as wearing masks, social distancing, avoiding crowds and providing curbside veterinary services?
Yes! Here's why:
The vaccine is meant to prevent illness, but it's still unclear whether or not those who are vaccinated if exposed to SARS-CoV-2 can still transmit to others. For now, assume they can transmit it to others.
Vaccines are not 100% effective. A 94 – 95% rate means about 1 in 20 will not be protected.
Full immunity doesn't occur until approximately 1-2 weeks after 2nd dose. You're still susceptible until that time.
Various medical conditions may prevent some individuals from developing full or lasting immunity.
Some people can't get the vaccine because they're not approved – perhaps pregnant or a child, or other contradictions for them to get the vac. Please consider others. and help protect them in case they're unable to get the vaccine.
What if I'm pregnant or lactating?
According to the CDC, "pregnant people with COVID-19 have an increased risk of severe illness, including illness resulting in intensive care admission, mechanical ventilation, or death. Additionally, they might be at an increased risk of adverse pregnancy outcomes, such as preterm birth."
There have been limited animal studies or data to establish safety/efficacy. So far, no adverse effects noted in rat studies. They're currently following people participating in clinical trials who become pregnant during trials and upcoming studies on pregnant and lactating people are planned. Be sure to follow the advice of your physician if you're pregnant or lactating and in a group recommended to receive the vaccine (e.g. healthcare providers).
What's our obligation to public health as veterinary healthcare professionals?
Invariably, veterinary healthcare professionals are looked to for information on disease outbreak issues. Be prepared with current information for yourself, family, and co-workers, and have easy access to resources to share. Learn how to share accurate information, avoid amplifying misinformation or conspiracy theories, and continue emphasizing the need for recommended infection prevention control measures: masks, handwashing, physical distancing, avoiding crowds, following travel and quarantine guidance, etc.
Common questions about the COVID-19 vaccine
Can I "get" COVID-19 from the vaccine?
Can I be vaccinated if I have already had COVID-19?

Yes, and it is recommended.

Will the vaccine affect my COVID-19 viral test?
How about my antibody test?

Possibly, but ongoing data/research will reveal more about this.

Can the vaccine alter my DNA?
Is this cleared for use in pregnant/lactating women and children under 16/18 years of age:
Do I really need to get both doses of vaccine?
Is it true I won't have to pay for the vaccine?

During the public health emergency period, the vaccine has $0 cost-share — no matter where you get it.
After obtaining the vaccine, sign up for V-Safe
V-safe is a smartphone-based tool that uses text messaging and web surveys to provide personalized health check-ins after you receive a COVID-19 vaccine. Through v-safe, you can quickly tell CDC if you have any side effects after getting the COVID-19 vaccine. Depending on your answers, someone from CDC may call to check on you and get more information. V-safe will also remind you to get your second COVID-19 vaccine dose if you need one.
Go to vsafe.cdc.gov. Read the onscreen instructions and click Get Started.
Dr. La Jeunesse has put together a comprehensive list of resources. It can be accessed from the WSVMA website.
Vaccine News
5 reasons to wear a mask even after you're vaccinated – PBS NewsHour
Washington state's website, PhaseFinder tool falters under crush of interest in COVID-19 vaccinations – The Seattle Times
Posted January 22, 2021