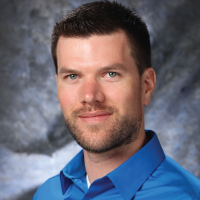 DVM, DACVIM (Neurology)
Animal Medical Center of Seattle
Austin Kerns, DVM, MS, DACVIM (Neurology) started his career as a veterinary technician at Sacramento Veterinary Referral Center. From there, his path has zigzagged across the United States in pursuit of academic and real-world experiences in general and specialty practice focused on neurologic disease. Dr. Kerns earned his Bachelor of Science degree in Neurobiology, Physiology and Behavior from the University of California, Davis, graduating with highest honors. He stayed at the University of California, Davis for veterinary school and after earning his Doctor of Veterinary Medicine, traveled to Georgia, where he completed a rotating internship at the University of Georgia College of Veterinary Medicine. He made his way back to the West Coast, where he completed a neurology internship at a specialty hospital in San Diego. He then moved to the Midwest, where he spent the next three years completing a neurology residency at the Ohio State University Veterinary Medical Center, earning his Master of Science degree. After his residency, he worked at a private practice in the San Francisco Bay Area, and then headed to the Pacific Northwest. In addition to his work in clinics and animal hospitals, Dr. Kerns has taught extensively throughout his academic and private practice career. His special interests include neuropathic pain, inflammatory central nervous system disease, and neurosurgery. In his free time, Dr. Kerns enjoys many pastimes including reading, playing guitar, and getting outdoors to garden, hike, and snowboard.
DVM, MS, DACVO
Animal Medical Center of Seattle
Dr. Kristina Gronkiewicz is an Illinois native who received a Doctorate of Veterinary Medicine degree from the University of Illinois in 2012, graduating with high honors. Dr. Gronkiewicz then completed a one-year small animal medicine and surgery internship at Oklahoma State University, after which she started a three-year comparative ophthalmology residency and masters program at the University of Missouri. Within two years, Dr. Gronkiewicz received a Master's of Science degree and upon completion of the residency program in 2016, Dr. Gronkiewicz became a board-certified veterinary ophthalmologist.  In addition to being a diplomate of American College of Veterinary Ophthalmologists (ACVO), Dr. Gronkiewicz also serves on the ACVO's public relations committee, helping pet owners understand the importance of veterinary ophthalmologists.  After her residency, Dr. Gronkiewicz left the Midwest and relocated to northern California, practicing at a multi-doctor veterinary ophthalmology clinic near Sacramento from 2016-2020.  In Sacramento, Dr. Gronkiewicz served as a member at large (2017-2018) and then president (2018-2019) of the Sacramento Valley Veterinary Medical Association (SVVMA). Dr. Gronkiewicz is now looking forward to the next stage of her career and is excited to establish the ophthalmology department at Animal Medical Center of Seattle. Dr. Gronkiewicz loves all aspects of ophthalmology, but she has a special interest in corneal, glaucoma and cataract surgeries. When Dr. Gronkiewicz is not in the office, she can be found spending time with her significant other, Ryan and their feisty tortoiseshell cat, Molly and talkative terrier, Eddie.  There is never a quiet moment in their household.
DVM, MS, DACVIM (Neurology)
Animal Medical Center of Seattle
Beryl Swanson, DVM, DACVIM (Neurology) was born and raised in the Seattle area. She earned a Bachelor of Science in Neurobiology, receiving departmental honors, at the University of Washington. After graduating, she spent two years as a data analyst at the Allen Institute for Brain Science in Seattle, where she analyzed human brain anatomy, assisted with dissection, and analyzed data for the purposes of labeling DNA and RNA strands. Dr. Swanson decided to leave human medicine to work with animals in 2010, earning her Doctorate in Veterinary Medicine at Washington State University College of Veterinary Medicine in 2014. Then she headed for Connecticut, where she completed a small animal rotating internship at two referral and emergency centers. Once her internship was complete, she moved to New York and completed her Neurology residency at the Animal Medical Center, New York City.
After her internship, Dr. Swanson moved to the San Francisco Bay area to work in the neurology department at SAGE Veterinary Centers. Dr. Swanson decided, after spending years away from her family, to move back to the Seattle area. She now heads the department of neurology at the Animal Medical Center of Seattle. Dr. Swanson's areas of veterinary interest include performing spinal surgery, treating immune mediated inflammatory brain disease, and managing epilepsy. Outside of work, you can find her distance running, hiking, and spending time with her adorable cats, Doug and Regular Cat.
DVM, DAVDC
Animal Medical Center of Seattle
Dr. Carle is a Diplomate of the American Veterinary Dental College. She received her undergraduate degree from Swarthmore College and her Veterinary Medical Degree from Tufts University, and completed her residency in veterinary dentistry and oral surgery in Massachusetts. She is a member of the Foundation for Veterinary Dentistry and the American Veterinary Medical Association. She has been an Assistant Adjunct Professor at the Cummings School of Veterinary Medicine at Tufts University. Her experience includes numerous publica-tions, being co-chair of the AVDC-Sponsored Dental Track at the Veterinary Dental Forum and chair of the Forum Review and Assessment Exam. She is also a member of the AVDC Training Support Committee. Dr. Carle volunteers for the Peter Emily International Veterinary Dental Foundation, and has performed root canal treatments on several tigers and a bear. Dr. Carle enjoys writing about and teaching veterinary dentistry and when not at work, enjoys jewelry making and biking. She has two cats, Kitten and Quinn. Quinn was a rescue kitty who had surgery and two root canals to treat an unhealed jaw fracture and is now fully recov-ered from his surgery.
Sponsored by: